Best Holiday Destinations in Djerba Travel Guide, Vacation in Djerba Planning Tips and Travel Information
The holiday destination Djerba is the biggest island of North Africa and is definitely one of the most popular tourist spots, particularly for holidays to Djerba: Fantastic climate, long, sandy-white and sloping beaches, warm-azure waters, endless palms and olive trees, picturesque villages, colourful bazaars, cheap prices, comfortable and attractive (mostly all-in) hotels, an interesting culture etc. Discover the best holiday destinations in Djerba and most unmissable tourist attractions.
Djerba, the gate to the oriental world, is located on Europe's doorsteps and can be approached in less than three hours from Central Europe. It is especially popular with families and offers relaxing holidays for Djerba holidays enthusiasts, though not boring as there is enough variety, beginning with a desert trip through the endless Sahara, to sunbathing, repose, all-in sports and great buffets in your hotel.

Facts and figures of holiday destination Djerba Island
Location: Eastern coast of Tunisia, in the Gulf of Gabès
Area: 514 qkm
Population: 120,000
Language: Arabic (official language), French (lingua franca)
Climate: Mediterranean
Religion: Islam (98%); very small Jewish and Christian communities (2%)
National Holiday: Day of Independence (March 20, since 1956)
Exchange rate: EUR 1 =1.8 Tunisian Dinar (TND); TND 1 = EUR 0.49 (03/08)
Phone Code: To Tunisia: 00216 +5 for Djerba
International Airport: Djerba (DJE), named "Melitta"
Time zone: Central European Time (CET) / +1 hour to CEST

History of holiday destination Djerba Island
Long before Phoenicians, Romans, Arabs or French arrived, the Berbers had settled on the island. Most of the inhabitants today are Berbers, but their origin is still uncertain. According to mythology, the destination Djerba was the home of the legendary Lotus Eaters from the Odyssey. However, the first certain visitors were the Phoenicians, who established a commercial settlement on the island. They were ruled out by Romans, who on their part built many villages as well as the Roman Causeway, connecting the island to the mainland, and who renamed the capital city Meninx in Girba, which was to become the current name of the Island: Djerba! The Romans used the favourable location of Djerba for slave caravans. After the end of the Roman Empire, Vandals, Byzantines and Arabs were fighting for the rule. After the Arab conquest in 666 AD, the population became Islamic, as it is today. In the 13th Century, Spaniards conquered Djerba but they were fought by Berbers. Soon, the island became a base for pirates; the most famous among them was the pirate, Dragut. In 1550, the Spaniards started a major offensive but Dragut took revenge and killed 15,000 people. The Spaniards who were still in Houmt Souk had to capitulate and all 5,000 were beheaded. There is still a plaque on the beach of Houmt Souk where 5000 skulls of the Spanish were piled pyramid style. It was in 1881 that the French came to power and the skull tower was smoothed out. After World War II, the struggle for independence came to the fore and on March 30, 1956 Tunisia became officially independent. The development of tourism began in the 60s and today Tunisia is still geared up for tourism, making it a historically significant place for tourists to spend Djerba holidays.

Religion of holiday destination Djerba Island
In Tunisia, almost all inhabitants believe in Islam, which is state religion. On Djerba, 98 % of the inhabitants are Muslims. Most of them are Ibadites, who form a self-contained, rather conservative group alongside Sunnites and Shiites. There are Jewish and Christian minorities of 1% per religion. In order to avoid embarrassing situations and as a sign of respect, you should follow some rules when you leave the hotel during your Djerba holidays tour. Revealing clothes are a no-no! Plunging necklines are okay in your hotel but not outside and you should cover your shoulders and your knees, especially if you intend to visit a mosque and if you don't wish to stay outside. When entering a mosque, you should not forget to cover your hair as well. There are around 250 mosques on the island of 514 qkm. However, entry is mostly refused to non-Muslims; you can only visit mosques that are not used anymore by Muslims. Furthermore, you will look vainly for alcoholic drinks on the menu in restaurants or in supermarkets, something to consider when planning for Djerba holidays. Due to the religion, alcohol is generally not being sold on the island. If you visit Djerba on Ramadan, of course you will not be missing anything at the buffet, but in the presence of Djerbi, who will be fasting, you should renounce the consumption of food or tobacco.
The official language in Tunisia is Arabic but even if you speak Arabic, it is possible that you will not understand the inhabitants because of the different dialects. French, the lingua franca, is spoken fluently by almost every Tunisian. Of course, most of the employees in hotels, restaurants and shops, as well as the market vendors speak enough German and some phrases in English or Italian so you can still communicate with them during Djerba holidays. However, you can only win, either favour or when bargaining, if you know some Arabic words.

Language Spoken in holiday destination Djerba Island
Arabic phrases
Hello – Aslema
Goodbye – Beslema
Good morning – Sbachir
Good night – Sbalachir
Thank you- Shoukran
You're welcome – Mid fadlek
Sorry- Sahmachni
How are you? – Lebes?
I'm fine! – Lebes! Hamdul'leh (standard answer, Hamdul'leh means "Thank God!" )
Inschal'lah – Hopefully; God willing
I am… – Ena…
I wish… – Enan häb
Where is…? – Ouen…?
Doctor – Tebib
Post office – Posta
Bank – Banka
Police – Pulis
How much is this? – Khaddesch?
Too expensive – rali jasser
No, thanks! – Le, shoukran!
I have this already. – Ena handi.
Yes- Nam
No – Le

Best holiday destinations in Djerba

tourist attractions
1. El-Ghriba synagogue
The oldest synagogue in North Africa; several kilometres of Houmt Souk; reconstructed after the terror bombing in 2002.
2. Bordj el Kebir
Historic fortress on the beach in Houmt Souk; most impressive construction on Djerba tourist attractions.
3. Djerba Explore
At the end of the "zone touristique" , next to the lighthouse on the way to Midoun, there is this great park, constructed like a traditional village. There, you can find the Lalla Hadria Museum with unique artefacts of North Africa, as well as the crocodile farm with more than 450 crocodiles. Yes, taxis are very cheap and comfortable, but try the slow train once, which is very cheap as well, to get to Djerba Explore and don't miss the great feeding at 5 p.m.!
4. El Kantara
Village with ruins of the ancient Roman town Meninx Ort and the fortress Bordj Kastil, lying on the coast road.
5. El May
Small village, famous because of the 16th century Ibadite Mosque( No entry for non-Muslims).
6. Gigtis
An excellent Roman site.
7. Guellala
Village of pottery.
8. Jamaa El Ghorba (Mosque of the Strangers)
On the eastern side of Houmt Souk; striking, angled minaret, adorned with traditional scriptures.
9. Jamaa Ettourk (Mosque of the Turks)
In the north of Houmt Souk; Ottoman construction.
10. Mahboubine:
In this village, there is the Mosque El Kateb, small spitting image of the Hagia Sophia in Istanbul.
11. Ras Tourguenes, Lighthouse
Next to the "zone touristique"; 54 meter high; only 5 minutes walk and a great view.
12. Roman Causeway
The only fixed, 7 km long causeway, that joins the island to the mainland in Zarsis; built 146 AD by Romans; pretty twisty.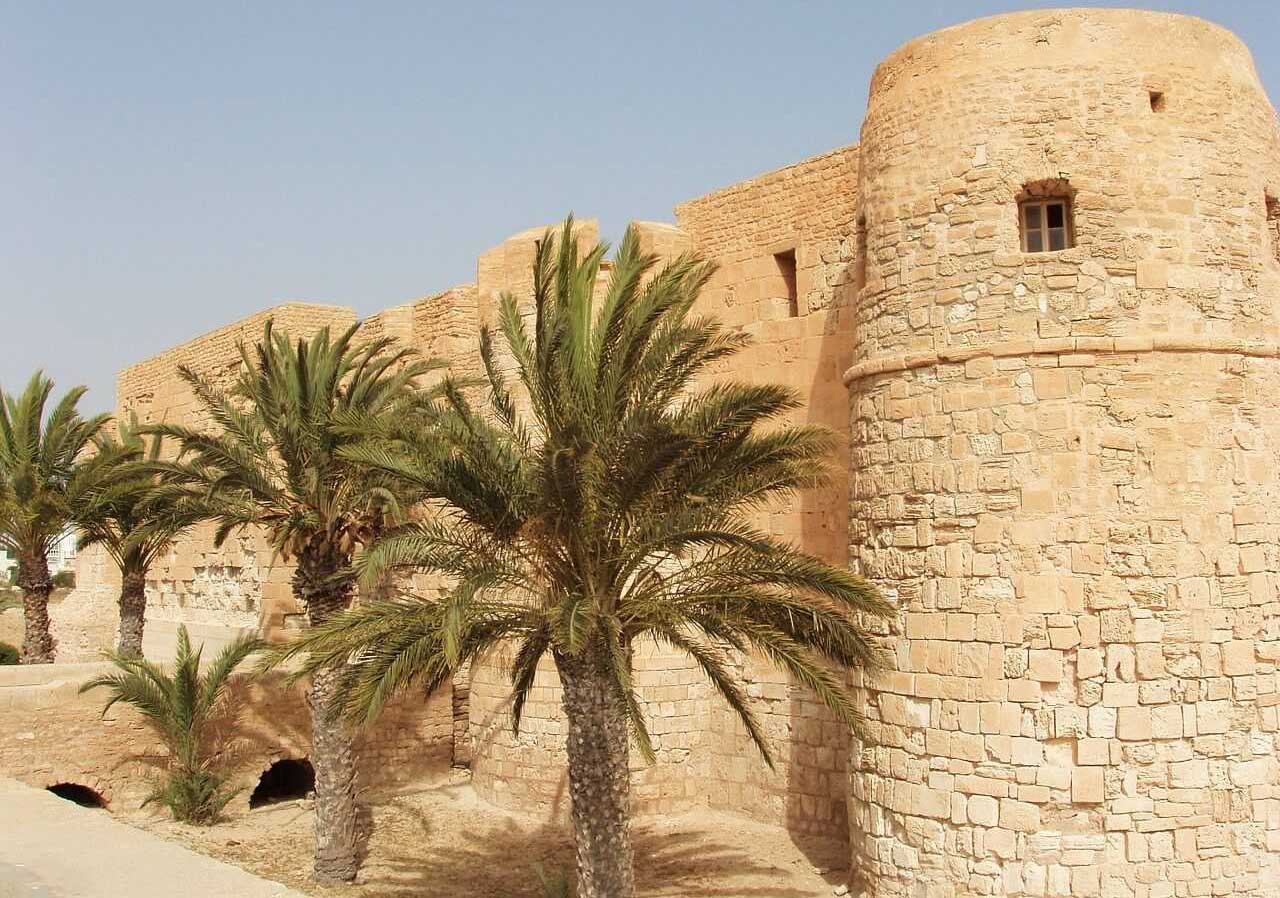 Holiday destinations in Djerba

's major cities and provinces during your vacation in Djerba Island
Houmt Souk
There is a reason why Djerba's capital, Houmt Souk, means market corners. The bazaar alleys (souks) offer anything that your tourist heart could ever desire, and shadowy cafes and traditional restaurants are great to get a look at the life on Djerba while having a break off a Djerba holidays tour. The largest city also offers some sightseeing, like the Mosque of the Turks, the Mosque of the Strangers, the fort Bordj el Kabir, the Folk Museum or the small obelisk at the port, a memorial to the macabre "tower of skulls".

Midoun
Midoun is the second largest town and it is only few steps from the touristic zone. That's why it has become more or less a modern village. The Friday bazaar is worth a visit for every tourist, staying in a hotel of the "zone touristique". You get 100% bazaar: souvenirs, all kinds of presents, cheap spices, jewellery, shoes, clothes, simply everything. The only rule: Bargaining! If you pay more than 50% of the price suggested, you're paying above value. This is also the case in the shops without a fixed price – 50 % is still too much!

Guellala
On a Wednesday or a Sunday, the market days, the picturesque village of pottery is worth a visit during Djerba holidays. There you can get cheap pottery and ceramics and watch the handicraft of the potters.
Holiday destinations in Djerba

nature and wildlife

The destination Djerba has a striking flora, characterised by palms and olive trees. More than one million palms and 500.000 olive trees that are over 2000 years old transform Djerba into a huge, fabulous garden. Djerba's fauna only gets interesting with the end of summer. Now the season of migratory birds begins and you can see many seagulls, wading birds, egrets and of course flamingos. Among domestic animals, the dromedary, the one-humped camel, is the most interesting one. The surrounding, shallow waters offer a colourful marine fauna. However, Djerba is not really recommendable for nature lovers. Apart from palms and olive trees, there is not much more to see in summers. Djerba holidays lovers should note that only persons travelling from November to March might wish to take a look at a verdant flora and interesting visitor birds.

Day trips of b
est holiday destinations in Djerba
Isle of flamingos (Ras R'mel)
From December to March you can watch pink flamingos, if you book a trip to the northern sandbanks.
Riding
Djerba is a paradise for passionate riders as well as for beginners who want to ride along the lovely beach – perfect way to enjoy Djerba holidays. There is a stable close to any hotel. There you can book a ride with a horse, a camel or a carriage.
Water sports
The water sports station in your hotel offers various trips at a low price, for example a trip to the Blue Lagoon or to the dolphins via catamaran or motorboat.
Trip to the desert – one of best holiday destinations in Djerba
A trip from Djerba to Douz on the mainland, the gate to the desert, is offered in any hotel. Whether you go for a trip with a jeep or on a camel's back, the endless Sahara is a unique experience especially for those looking to celebrate Djerba tourist attractions.
Zarsis and South Tunisian Oases
The Roman Causeway, that is 7 km long, joins Djerba to Zaris on the mainland. In Zarsis, there is not really any sightseeing but nice, quiet and sandy natural beaches and a life away from tourism. In the South of Tunisia, you should visit one of the numerous oases as part of your Djerba holidays tour; Recommendable: Desert oasis towns Nefta or Chebika, as well as Tozeur with over 3 million palm trees.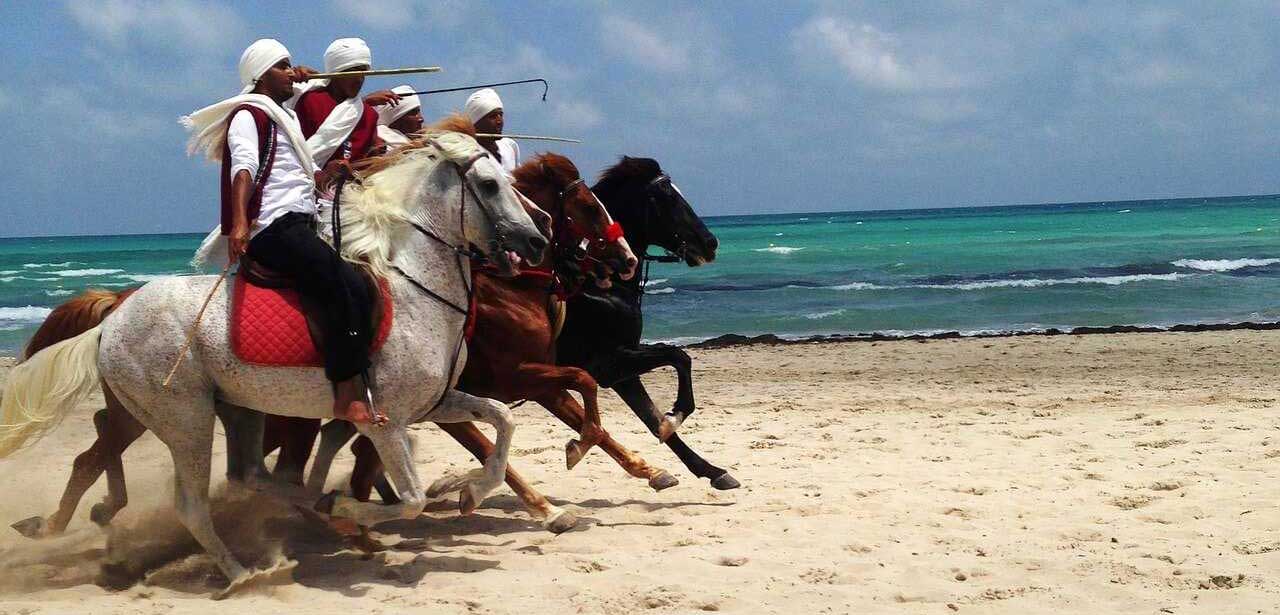 Cuisine and specialties of holiday destinations in Djerba Island and Tunisia
The great buffet in the restaurant of your hotel will be oriented European. Tunisian food is rarely served, sometimes on a Tunisian evening for example. You should try Tunisian cuisine, which is healthy and spicy in one of the numerous, comfortable and cheap restaurants on Djerba. Here are the facts:
Harissa: Djerba's No. 1 spice, made from chilli peppers. Beware! Very spicy!
Couscous: National dish; made by rolling semolina wheat; steamed in a sauce, but there are endless variations
Ojja: Steamed vegetables with meat, fish or merguez, tomato sauce and eggs; very spicy
Bric: Puff pastry, filled with eggs, fish or others and baked in olive oil
Merguez: Spicy sausage made of mutton, beef or lamb
Cassecroûte: White bread/baguette with harissa, olives, tuna and/or vegetables
Fricassée: Dough balls with harissa, tuna, eggs, olives, potatoes and/or salad
Chorba: Spicy, thick soup with lamb, pasta and vegetables, often tomato sauce
Meschoui: Lamb, roasted on a spit
Koucha: Cooked mutton with potatoes and vegetables
Felfel: Filled peppers with sauce
Doulma: Filled zucchinis with mincemeat and sauce
Baklawa: Puff pastry made of layers, filled with pistachios and date paste or nuts
Makroudh: Semolina pastry filled with date paste
Boukha: Natural fig brandy
Thibarine: Liquor of dates epices de tunisie

Best time for visiting the best holiday destinations in Djerba Island
The climate on Djerba is Mediterranean, which means that the climate of the veldt is affected by the Mediterranean Sea. Its general pattern is hot, dry summers and mild to cold winters with irregular rain days. Don't trust in your travel catalogues that promise non-stop sunshine if you want to enjoy Djerba holidays; from November to March, the weather is not always predictable and you may need a jacket and maybe even an umbrella, so don't forget some warm clothes. Rain days are really rare, the island has an annual rainfall of 200 mm. Djerba enjoys 324 days of sun a year and a daily average of eight hours of sunshine in winter and eleven in summer. From May to October, it is getting very, very hot. The midsummer temperature often exceeds 40°C and never falls below 30°C, the water temperature is about 25°C and the number of rain days is 0-1 a month. Maybe, the heat will even annoy your dreams. Compared to the winters, when the nights might get really cold, it never gets cold on a summer night.
How to get to your holiday destinations in Djerba Island
The destination Djerba can be approached by air. There is an international airport, named Melitta. Almost every national airline offers scheduled and charter flights . The majority of the tourists are all-in travellers, some of whom are Djerba holidays lovers. However if you're considering an individual trip, you should check budget flight airlines which often approach Djerba and always have some special offers. You should take charge of accommodation on time, as hotels will be mostly booked up in summers.

Entry requirements of holiday destination Djerba Island
To enter Djerba, you need a passport that has to be valid for the following six months at least. It is highly recommendable to travel to Djerba with your passport and NOT with your ID card!
Book tours, packages and activities on Tiketi and discover the unique places of the holiday destination Djerba. Make your trip an unforgettable journey in Africa.